Jasdeep Singh
Software engineer, film writer and translator
I spend most of my time solving problems related to performance and security engineering at basware.com. I consume a lot of written word, be it meanderings on science and technology, philosophy, visual or literary arts. I spend less time on writing but when I do, I write dialogues for award winning Punjabi films, essays on Punjabi oral tradition, digital literary sphere and artist profiles. In my opinion, translation is close reading of the texts, so I translate literature between Punjabi and English languages. I know a bit of Urdu/Shahmukhi as well and I host a weekly reading of sixteenth century Punjabi poet Madho Lal Shah Hussain.
I curate Kirrt project, an online gallery that hosts stories and photographs of Punjabi labourers, artisans and artists and I am a part of the farmers protest newsletter Trolley Times as well.
‌
‌
INTERESTS
Digital Humanities, Film Studies, Visual Anthropology, Data Science, Natural Language Processing, Socio Linguistics, Translation Studies, Punjabi, Urdu, Indic Languages studies.
SKILLS
Natural Languages- Fluent in English, Punjabi, Hindi, Beginner level Urdu.
Programming Languages- Java, Python, R.
SUMMARY
• Software Engineer with extensive expertise in the design & development of enterprise applications. (14 Years)
• Experience in research, dialogue writing, screenplay writing and subtitle making for Punjabi films (10 years)
• Experience in literary translation between Punjabi and English (12 years)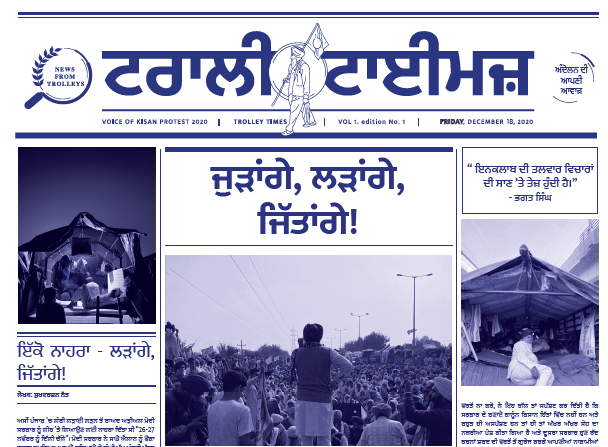 Trolley Times, its establishment and significance for the farmers movement in the present moment of documenting the struggle as the first draft of history
Read more
Editor for the newsletter of the Indian Farmers protest
Read more
Written in January 1970 at the request of Simon Field and Peter Sainsbury for the magazine Afterimage, produced by Peter Whitehead. Published in Afterimage n°1, April 1970. Translated from French by Mo Teitelbaum. We must make political films. We must make films politically. 1 and 2 are antagonist to each other and belong to two opposing conceptions of the world. 1 belongs to the idealistic and metaphysical conception of the world.
Read more
Featured categories
Cinema (5)
Website (5)
Essay (4)
Jasdeep Singh
Engineer, Writer, Translator
Interests